February 07, 2019

|

Stories

|

Scouts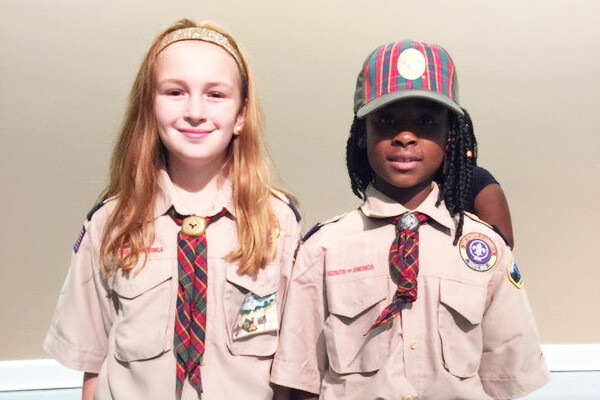 Benjamin Stone, an eleven year old Cub Scout of Pack 317 and Christ Church member, stood with teeth chattering on a cold March evening in anticipation of crossing the bridge set before him.
You see when a Cub Scout is ready to move from their highest rank in the Cub Scouts, the Webelo Arrow of Light rank, and crossover into Boy Scouts, they are taken through a special Crossover Ceremony (sometimes called a Bridging Ceremony) that moves them from Cub Scout to full Scout status.
Benjamin and his fellow Webelo Scouts were camping at Tunnel Mill Scout Reservation in Indiana. They had been taken there with their families, their Pack Leader, Ray Krause and Scout master, Victor Gomez, both have been involved in Scout leadership for years. The campout and Crossover Ceremony were all planned and executed jointly by Pack 317 and Boy Scouts of Troop 317, who attended the campout as well. It was no ordinary camping excursion.
The fire cast a warm glow over the campground. The sun was beginning to fade from the sky and the colors of dusk took over. The campers moved into solemnness as they awaited the ceremony to come. Benjamin and his fellow Scouts shivered from the cold. As he stood in his Scouting uniform, proudly decorated with badges and pins representing years of hard work and merit, the sacredness and symbolism of the ceremony he was about to step into was not lost on him. He looked behind him at his Pack Leader, sending him off from the Pack. He looked to his side at his parents, supporting him on his journey. He looked ahead to the Scout Master beyond the bridge, ready to welcome him into the troop. He looked directly in front of him at the empty, bridge base set before him. The Boy Scouts came forward, each holding a wooden plank that would fit into the base, forming the steps of the bridge. The 12 planks were each inscribed with a quality of a Scout from the Scout Law, which were read aloud to the family waiting to cross. The base of the bridge was inscribed with the Scout Oath.
As Benjamin put one foot in front of the other, he was symbolically taking the steps from Cub Scout to Scout and at the end of the bridge his new uniform and epaulets awaited him. He was now a Scout and a member of Troop 317.
The Scouts' bridging ceremony is symbolically rich and visibly shows each child that their journey in Scouting is maturing as they're welcomed into a new troop. But the world of Scouting in general has built its own bridges over the course of the last few years.
Most Christ Church members are aware that Troop 317 and Pack 317 are chartered by Christ Church and meet in the little hallway by the gym. Most of us are probably also aware from the news that the Boy Scouts and Girl Scouts have undergone vast changes within the last few years, mostly issues of gender inclusion. Boy Scouts of America now calls its flagship program Scouts BSA (not Boy Scouts) with the tagline, Scout Me In. What many people don't know is that the Boy Scouts have allowed girls in their teen programming for a number of years; recently, they've extended that policy to welcome younger girls.
The pack and troop here at Christ Church have had several active girls among them for over a year.
"Since 1971 Boy Scouts of America has been welcoming girls into a high school age program called the Venturing. For years families with sons have asked if their daughters could officially participate at the younger level, although many already were participating in family camp outs and things of that nature. In today's day and age with families often having fast paced lifestyles, it just makes sense logistically if you can bring all your children to participate in Scouts on the same night or at the same event," said Mark Ray, Christ Church member. Mark has been involved with Boy Scouts of America for over 25 years and is a writer for the organization. "The Scouts officially allowed girls into the Cub Scout program last year and this year Boy Scouts will fall under a co-ed umbrella with gender specific troops that will elect their own leaders, but work together. They will share a troop committee. This allows the girls and boys to have time with their own gender, while also learning how to work with and do activities in a co-ed environment," said Mark.
Although girls can now join Scouts BSA troops, many will still opt for the Girls Scouts of the USA. Others will choose to do both programs, much like someone might choose to play both soccer and field hockey. Victor Gomez says they already have several girls who will be forming a troop at Christ Church after February 1. "My daughter was part of the Venturing program at age 14. I wish that we were able to get her involved even earlier so she could have been exposed at an earlier age to the leadership training skills that the Scouts teach," he said. Victor explained that it's the chartering organization's decision whether or not to add girls' troops and Christ Church was excited to open the doors to an inclusive Scouting program last year. "We, Scouts in general, already had the systems in place to make it easy for boys and girls," said Victor. They already have a Scout Master lined up and ready to take over the girls' troop. "For us, it is just better if we are all together. It's a co-ed world, so why not give and teach them the skills to properly work in that world?"
The biggest news is that once girls have established troops, they will then be able to obtain the prestigious level of Eagle Scout. "There will be lots of girls wanting to be America's first female Eagle Scout. It's exciting," said Victor.
While the changes are big and may have made national headlines, the real beauty of this bridge is that kids like Lucy Kik, a young lady whose brother is a Cub Scout, got to officially join in on the fun last year. She wanted to join after watching her brother Sam and his friends enjoying activities together at Scouts. She was an unofficial member last year participating in a great deal, but now loves some of the perks of being a legitimate Scout. "I have enjoyed the parties and getting my neckerchief at the Blue and Gold dinner last year. And getting my belt loops this year!" said Lucy.
And now the bridge has been opened for Lucy to walk across at her own crossover ceremony someday. Maybe she'll be the first female Eagle Scout. But for now, she says, "I like doing activities together, it makes me feel happy because we don't have to be separated. We can just be Scouts all together."