March 25, 2019

|

Articles

by

Camille Burgard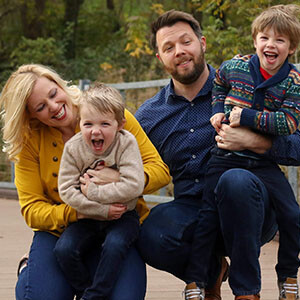 We visited Christ Church, toting a two and three-year-old, and looking for something "different." We were on the hunt for a place where our children's faith and intellect could be developed simultaneously, while being continuously woven together as they matured. All we knew was that we wanted something deeper than the traditional memory verses and Bible stories.
What we have found at Christ Church is a Children's Ministry fervently committed to using scripture, tradition, reason and experience to root kids in a deep, mature faith that can weather the storms of adolescence and adulthood.
A few months later, the adults in our congregation participated in a multi-session class about the role of the church in mental health. Meanwhile our children's ministry offered a parallel, age appropriate class for children. Our then three and four-year-olds came home clutching their own egg timers, telling us about a new word they learned, "mindfulness," and showed us a deep breathing exercise they practiced.
That summer we enrolled our oldest in Christ Church's VBS, Shepherd's Camp, where the K - 5 students were divided based on their interests. These groups then developed ways to use their gifts to serve our local community. Whether it was a "tea party" for the elderly, baking, woodworking or gardening each child was empowered to be the hands and feet of Christ in a real and tangible way outside the building!
Over the years I have seen third graders leading our preschool Sacred Circle Time and preschoolers blessing an elderly Sunday School class. Christ Church's Children's Ministry embraces intergenerational worship in a unique and consistent fashion.
Our Children's Ministry is a substantial reason for why our family remains part of this faith community. From the Lenten Prayer Journey luncheon that introduced over a dozen ways to incorporate prayer into your family's daily life to the Advent Lunch where we left with tools to instill a sense of wonder in our little ones throughout the Christmas season, I am thankful. Our church is a place where the busyness of life is stilled, children are encouraged to meditate on God's splendor and creative worship opportunities are plentiful.