March 18, 2019

by

Jenny Fishback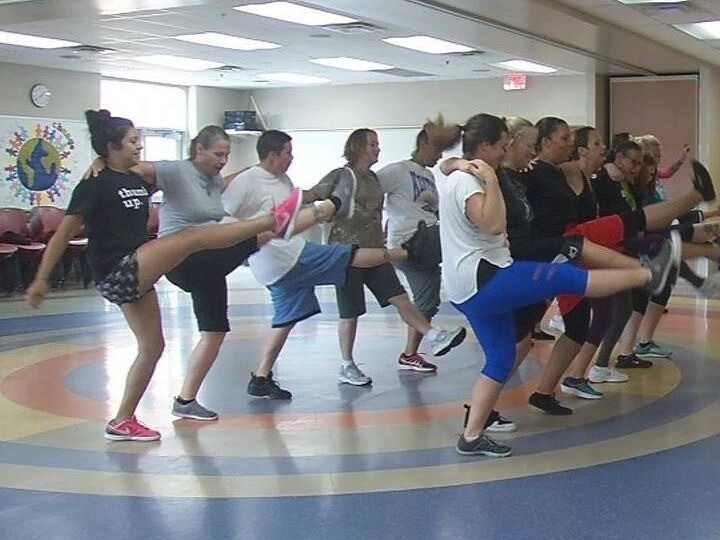 She pulls into the parking lot and puts her van in park. She gets out of her vehicle and walks back to the sliding door to get her equipment. She unloads a speaker and a couple of pitchers and cups and starts to make her way toward the building. As she walks across the parking lot, the last couple of hours race through her mind… her three young children that she dropped off at school this morning, her husband that had just called during his lunchtime, her boss at her part-time job that had asked her to switch shifts. Did she remember to start the dishwasher before she left the house? Would she have time to stop by the grocery before the kids get home from school? It's just a typical Friday afternoon for Jenny Fishback.
As she enters the doors she walks up and says "Hello" to the receptionist with the warm, smiling face. She signs in and heads to the classroom. As she fills the water pitchers and plugs in the speakers, she goes over the dance moves in her mind. She lays out her notes and her devotion book and before she knows it, a young woman walks in smiling and waving her hands. Her heart skips a beat. This is where her life's purpose and God's work join in one wonderful, awesome, inspiring work of art. Some would call it an exercise class. Some would call it a dance class. And some would call it a time of physical and spiritual awakening. Jenny calls it her fulfillment.
As far back as she can remember Jenny has always loved to dance. When she was young she played soccer and danced. In high school she cheered and was on the dance team. "My dad died when I was about 13 months old. About 12 years ago, a friend of his told me he loved to dance, like LOVED to dance—a passion. I like to think that's where I got it." Jenny also cherishes the memories of traveling to Harrisburg Pennsylvania with the Christ Church youth group. She says, "I've always felt a calling to go to the inner city. It's where I see God the most. I find that I can be myself there. People don't care what you wear and they don't care about what you have, they just want to be loved." She learned a lot about herself on those mission trips but she had no idea that she was being prepared for what she would do later in her life.
Over the years since high school and college, Jenny got busy with life. She married the love of her life, Will, and had children Jane, Teddy and Gibs. Life was full with family. As the kids got a little older she was able to get more involved in volunteer efforts. She loved to serve, but felt her experiences were just okay. She'd not yet found what she loved to do.
About 18 months ago, Jenny got involved with a small group here at church. It was composed of four women who joined in covenant with one another to share life, learn about God, and hold one another accountable to Christian living. "That's where the change really began," said Jenny. "I learned how to listen to God. I learned that I was okay and that I was a work in progress." That small group helped her grow in her faith, in her confidence as a child of God, and in knowing that she was called to fill The Great Commission— "...go and make disciples..." (Matthew 28:19)
It was during this time of spiritual growth that she was invited to attend a cousin's wedding. "I had forgotten how much I loved to dance," she said. God started stirring something in her on that dance floor. "It may sound silly," she says, "but something happened to me that night." Not long after her cousin's wedding was the Imagine sermon series that envisioned the Kingdom coming to this city, to this church, and into our own lives. "I remember walking across that bridge in worship and placing my post-it note on it," she says. Jenny knew there was something for her to do, but it wasn't clear just yet. "I remember going to that first meeting about Planting New Faith Communities and telling one of my friends that I wish I could do that with dance." She had been in a friend's REFIT® class and loved the upbeat music, the encouraging song lyrics, and the way that it made her feel after completing the class. She began to think about how she might be able to merge her love of dance with her love of the inner city. And that's when it happened. Jenny began discussing the idea of doing a REFIT® class with the women of The Healing Place and every person she talked to affirmed her and encouraged her. She even received a phone call from Erika, the friend that was her instructor, telling her that REFIT® was having an instructor training here in Louisville for the first time ever. Everywhere she turned, the doors seemed to open. But Jenny will tell you that there was a lot of listening and praying, too.
During her time in the small group, Jenny had learned how to pray, listen, and walk. She had begun praying a prayer asking God to show her where God wanted her to do his work. After almost a year of praying and seeking, God was showing her where he was calling her to serve. God brought it all together. Jenny says it best, "I've got this t-shirt that says 'Made for this.' That's me…I was made for this!"
"So, what exactly do you do?" I ask. "I hope I help women feel a little lighter in their heads and in their hearts. I let them know that they are loved. I let them know that their past is the past and I hope that their shame, guilt and remorse are relieved." All of that…through dance. Jenny tells me that she has seen a big change in just a few weeks. She used to suggest that a couple of the women join her at the front of the class to help lead the moves. "The heads would go down and look at the floor," she said. "But now when I call on the women they come up and lead. They smile and move with confidence. I can see the 'I can do this' in their eyes."
"I have gained a lot of weight being sober, so this makes me feel so good about myself," says MH. "It gets your mind clear," Lana shares. "It just overall makes me feel high energy, refreshed." Amanda Hall, Director of Women's Services adds, "So often, when you do find yourself in a recovery program or treatment facility, you have so much guilt, shame and remorse. Something as basic as fitness classes helps them fight the hard fight for one more day." "I just finally want to do this for myself," says Lana. "I just want to get my life back together."
"And how have you changed?" I ask Jenny. "My heart smiles through all of it. I have found my purpose. God has given me a gift and it's a good one. I feel fulfilled," she says. "It's good for my soul." At the end of their time together, they share a time of reflection and a devotion from a book called AA Daily Reflections. This time of reflection and sharing is led by another Christ Church member, Rebecca Jones. It is a time to connect to God and to thank Him for the life He has given. It's a time to connect all the dots.
When I ask about goals for the group Jenny replies, "My prayer is that our hour together is a chance to feel God's love and acceptance and feel loved by the people around them. I also want them to recognize that this class is challenging, just like life, but they can push on and do it. That seems like a big goal for 45 minutes of dance and 10 minutes of reflection and devotional time, but I believe it's possible because of God."
Jenny concludes, "This journey of REFIT® at The Healing Place is without a doubt one of the greatest gifts of my life. It's helped me to trust God which has—in a roundabout way—helped me to trust myself because of the trust I have in God. I've seen a plan and that God keeps his promises.
And if I had envisioned this myself, it would never have been as beautiful as what God has created.
There's a verse from John 30:3 says, 'He must become greater. I must become less.' I also wear a bracelet that says 'By His Grace. For His Glory.' Those are my go-to phrases. I see that this is God's plan for God's people and I get to be on the journey. The glory goes to God!"