March 25, 2019

by

Michelle Miles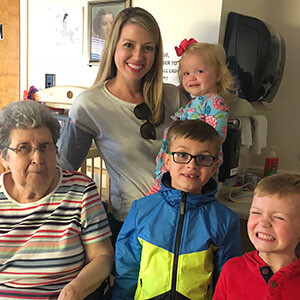 I grew up in a rural United Methodist Church that I attended regularly with my grandparents. My grandmother taught Sunday School to kindergartners for over fifty years. Even after we had moved on from her class, my sisters and I would help her with the younger children.
When our family joined Christ Church almost three years ago, it was so important to my husband and I for our three young children to be involved in church. When I was approached about teaching Faith Formation to kindergartners, I felt a small nudge from the Holy Spirit and my grandmother to say yes. I had no idea how much of a blessing these children would be to me. The five and six year olds in my class are just starting school and they love learning and sharing their thoughts and ideas.
Our children are so fortunate to have a format that is focused not only on Bible stories and Jesus' teachings but on having an actual relationship with God as well. I love that we tell them each week that God loves them and they are a blessing.
As a result of our involvement at Christ Church, and specifically their Children's Ministry, my own children frequently tell me about what they have learned, ask us questions about God, and want to pray together as a family.
I will be forever grateful for this experience and this church.