December 30, 2020

|

Articles

|

Stories

|

News

The temperature outside was low but our spirits were high on Christmas Eve during our Christmas Under the Stars outdoor services. We held six 15 minute services on Christmas Eve night at two stations across our parking lot. Hundreds of people throughout the night gathered at a safe, social distance. We read scripture and sang hymns, ending each service with "Silent Night" as people held lighted candles. Inside the Sanctuary, our clergy served communion as instrumentalists played beautiful music. The entire night was a Christmas to remember!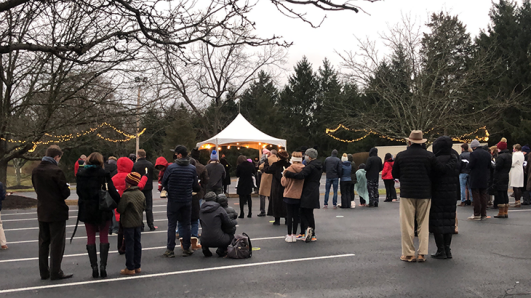 WHAS 11 News did a live story from our parking lot at 6 pm Christmas Eve night and interviewed Revs. Drs. Eric Bryant and Leanne Handley. They later wrote an article describing our Christmas Eve offerings, "Louisville churches turn to outdoor services, other creative ways to hold services."
click here to view the WHAS story
WDRB News also interviewed Rev. Dr. Bryant and wrote a news story highlighting our Christmas Eve services, "Louisville church braves frigid temperatures to hold outdoor, socially distant Christmas Eve services."