March 18, 2019

|

Articles

|

Serve Stories

by

Leah Bennett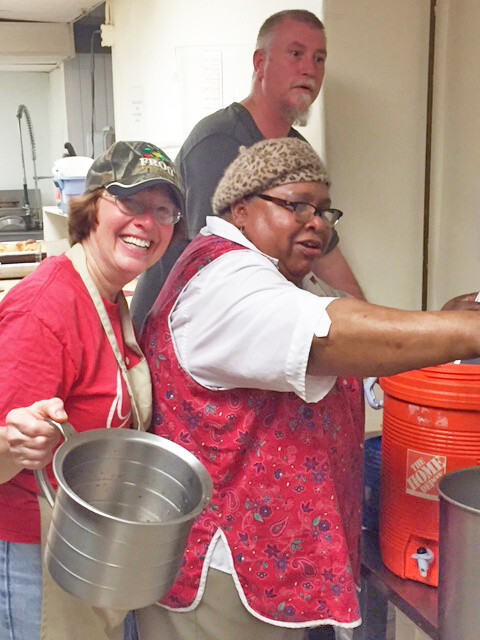 Over the past couple of years Tom and I have settled into our niche of serving at the Open Door Ministry at Fourth Avenue United Methodist Church downtown.
Open Door Ministry offers a place for the homeless and impoverished of Louisville to come and receive meals. It is a place for folks to get warm and have someone look them in the eye and tell them they are loved. We have learned so much about the journey of recovery from addiction by working with some of the men of the Healing Place through the Open Door. We are stunned daily at the grinding impact of poverty on people's lives. We have grown to love the people we work with and meet there. We look forward to going there, and yes, peeling 50 pounds of carrots can be fun when you hang with like-minded folks.
But in our communion service this past April, a phrase from The Great Thanksgiving seemed to be amplified and ring throughout the auditorium: "make us one in ministry to the world." I wondered why I had heard that phrase so distinctly. How did that apply to my mission?
I am gradually understanding it doesn't apply to just me but it covers us—you and me. None of us can become one in ministry to the world by ourselves. We need one another. In the Open Door Ministry, there are a million small details that have become missions for members of our church. They may seem like insignificant details, they may seem trivial. Why bother? Does it really matter? Won't someone else do it?
Routinely baking desserts; picking up bread and biscuits each week; furnishing green beans, casseroles, or pizza for 120; cooking and serving meals on fifth Saturdays; or our personal favorite, thawing-cutting-cooking-and-"picking" ten or more whole chickens at a time to use for casseroles! Does pickin' a chicken matter in the grand scheme of God's mission on earth? You better believe it. It matters to the folks who depend on that chicken for sustenance.
There are many fantastic Christ Church members who are helping each other become one in ministry through the Open Door.
Recently, one of our frequent guests at Open Door, a 76-year-old retired day care teacher, lost everything she owned. Everything. Within three days, a Christ Church class responded to provide her with basic items that she wouldn't have been able to obtain on her own in a month! Amazing...God make us one in ministry to the world!
God's kingdom will grow in the world if Christians actively participate in it. How will others know of his Kingdom and its glories if each of us is not a part of the mission? Starting with our Christ Church family and extending our outpouring through our community, beyond our denomination, our country and into the world. God's kingdom must have every Christian in this world focused on mission so that we can all become one in ministry to the world.
Now that raises the question of what is mission?
A friend once said to me, "Oh, what you do at Open Door is a 'real' mission. All I do is bake some cookies!"
But what my friend didn't realize is that those cookies are a real mission.
Maybe baking is how God has uniquely gifted her to represent God's love to the world.
To me, mission is anything that we do to help anyone in need understand that God loves them. When we show mercy and grace to others in Christ's name, we are on mission.
We have many members who are in the midst of very active lives with family, employment, or other huge demands on time. Being on mission is more about focus during the different stages of our lives - looking for an opportunity to show grace and mercy to someone who needs it. It means bringing God's words of love to someone else, including our own children and grandchildren.
Needs may be physical or economic as the Open Door provides. But the mission can also be met through friendship, reaching out to someone new to the church; showing basic kindness to those we meet each day; a listening ear to our children when they've had a hard day; or forgiveness of those who have hurt us. This is all part of the mission.
To be on mission means every single person who believes in Christ will grow in service to others. What this service looks like will change as our stage of life changes. What my mission is today may be different from what it will be five years from now. I pray that each of us grows to see their importance in the mission.
Becoming living proof of God's love, one person at a time is two-fold. We impact outwardly one person at a time and together we are one in the ministry to the world, even if we are just baking cookies.