Join your Christ Church sisters on a year-long journey toward wellness and wholeness. Every two months, we'll consider an important dimension of our lives and offer practical steps to help us move in the right direction: closer to good health and closer to God.
---
July + August ● SOCIAL
Reaching beyond ourselves
Seeking new friendships
Going out (when we'd rather stay in)
September + October ● INTELLECTUAL
Exploring new areas of interest
Feeding our minds with good food
Flexing our creative muscles
November + December ● VOCATIONAL
Looking at our natural and spiritual gifts
Listening to what God is calling us to do
Using our gifts to serve and glorify God
---
Women's Wellness Morning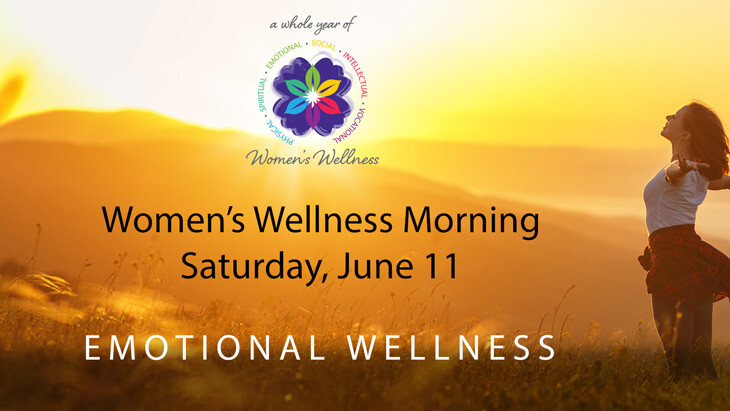 Women's Wellness Morning: EMOTIONAL WELLNESS
June 11 | Saturday 10:30am – 12noon | Youth Center
Join us for another fast-paced 90 minutes! Our Women's Ministry Team and invited guests will provide some much-needed encouragement, as together we explore the many facets of Emotional Wellness and enjoy delicious, healthy snacks. This event is open to all women 18+ and it's FREE!
Our morning will include:
Elevating Your Mood with Jenny Fishback, a REFIT and REV+FLOW instructor, leading us in safe and simple movements any woman at any fitness level can do.
A Walk through Mary's Many Emotions with Bekki Livingston, Director of Women's Ministry, demonstrating the timeless range of emotions women experience.
Emotional Wellness for Women with our pastoral counselor, Jane Myers, LCSW, LMFT, offering wisdom and direction for women of all ages.
An Exercise in Honesty, created by Shelah Woodruff and Liz Curtis Higgs, giving us an opportunity to express our emotions in a meaningful and creative way.
The first 50 women who sign up are guaranteed a spot. Please register HERE!
---
---
What to look for in the months ahead
For Your Journey email newsletters and For Your Journey cards with:
Key verses from Scripture to write on your heart
Encouraging words from your Women's Ministry Team
Recommended reading, online and in print
Useful, practical tips for optimal wellbeing
Women's Wellness Mornings
Six Saturdays in February, April, June, August, October, and December
10:30am-12noon
It's going to be a life-changing year, sisters!