Weddings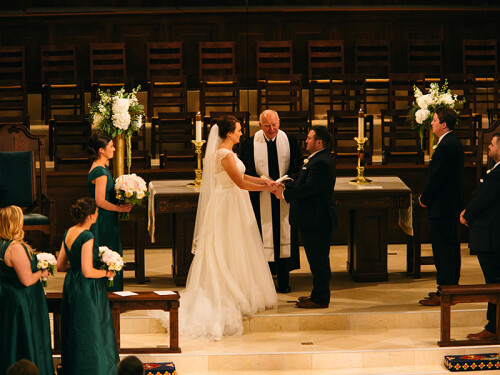 Weddings
Do you have a knack for planning & enjoy weddings? Join the wedding ministry and work with wedding couples to help plan and execute their special wedding ceremonies. There are two roles in this ministry: Volunteer Wedding Ceremony Coordinators and Assistants. Christ Church has an average of 8-10 weddings a year (most volunteers help with 2 weddings a year).
Wedding Ceremony Coordinators
Meet with the wedding couple and Pastor 1-2 times prior to the wedding to review Christ Church wedding policies and answer any questions they may have pertaining to their wedding ceremony.
Along with the Pastor, coordinate the wedding rehearsal: Ensure that the wedding party knows when/where to process in for the ceremony. (1-hour, day before wedding)
Arrive at Christ Church 2-hours prior to the start of the ceremony to ensure that all ceremony items are in place - offer additional help when possible.
Coordinate the wedding processional: Gather wedding party (grandparents, parents, attendants, bride and groom) and make sure all are in position prior to the start of the ceremony. Queue the wedding processional.
Wedding Ceremony Assistants
Assist the wedding coordinator with the wedding rehearsal (1 hour) and ceremony (2-3 hours), as described above.
Optional: Attend meetings prior to the wedding with the coordinator and wedding couple.
In this role, get experience to possibly become a Wedding Coordinator at CCUM.
Join this exciting ministry - no experience needed! Contact Julie Minnic at or 502-802-8216 to get involved.
Please note: weddings occur late afternoons/evenings on weekends.