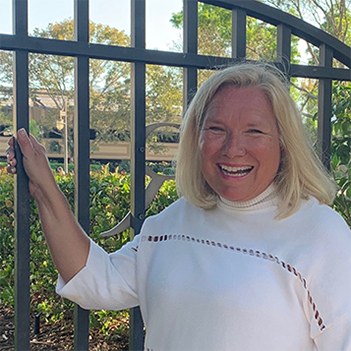 Tish Muldoon
Special Events Leader
"Let us not give up meeting together...Instead, let us encourage one another with words of hope." Hebrews 10:25
Currently employed as Senior Marketing Manager at Kindred Healthcare, Tish Muldoon is a woman of many talents. She's worked in public relations for Papa John's International, Valvoline Oil Company, Long John Silver's, and Cardinal Hill Rehabilitation Hospital. She's a graduate of the University of Kentucky. And she's won numerous awards for her corporate efforts.
Speaking of accomplishments, Tish is happily married with three grown children, and brings years of commitment to women's ministry to her leadership role. She loves people, loves the Lord, loves the Bible, and loves making things happen.
Q: What gives you energy?
A:
Being with my friends and family. Starting a new project and seeing it through. Anything pink, my favorite color.
Q: What's your favorite day of the week?
A: Saturday. I try not think about my "to do" list and go somewhere fun for lunch!
Q: Coffee or tea?
A: Love the smell of coffee, don't care for the taste. Give me a fresh Coke Zero on ice in the morning and I'm one happy girl.
Q: Where do you see Women's Ministry at Christ Church in 5 years?
A: I'd love to see women come to our church knowing they are going to get their needs met. Whether they want to be involved in a Bible study, small group, big event, or exercise group, I hope they'll find a way to connect with Jesus.