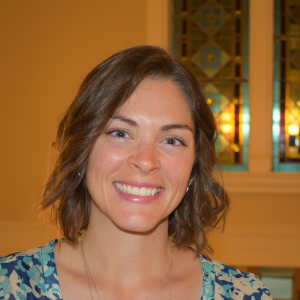 Shelah Woodruff
Director of Adult Discipleship
Office: 502-893-2201 x225
Shelah joined the staff in 2019. She received her undergraduate degree from Ohio Northern University and her Master's from Florida State University.
She coordinates with the Outreach + Justice Committee to help members work alongside community partners, serving local and global communities with physical and spiritual support.
Shelah met her husband while serving with a Habitat for Humanity build in college. They have two young children and love to spend time hiking and traveling as a family.
"I'm excited to help others share their gifts and love with our community. Fred Rogers is one of my spiritual heroes. He reminds us, we live in a world in which we need to share responsibility. It's easy to say 'It's not my child, not my community, not my world, not my problem.' Then there are those who see the need and respond. I'm overjoyed to serve with a church who sees the needs of the world around us and responds."