One Voice l High School Vocal Choir
The video shows how God brought together One Voice and students with developmental disabilities at the Stewart Home.
One Voice is choir made of high school students and adult volunteers. Many students say they have grown closer to God and have met their best friends through participating in One Voice. Students do not need prior music experience before they join One Voice, all are welcome!
Rehearsal
Sundays (during the school year) | 5 to 6 pm
*Rehearsals are now online due to the COVID-19 Pandemic. Please check your email for the zoom link.*
-CANCELLED- 2020 One Voice Choir Tour and Mission Trip
Join us for our annual choir tour as we sing, ring and serve through Tennessee and Alabama! We will spend time in Nashville, Birmingham, Montgomery and Gulf Shores, performing concerts and serving with great organizations like the Nashville Rescue Mission, Birmingham Community Food Bank and the Firehouse Shelter. Non-singers are welcome to attend!
Want to learn more about One Voice? Contact Dan Blosser -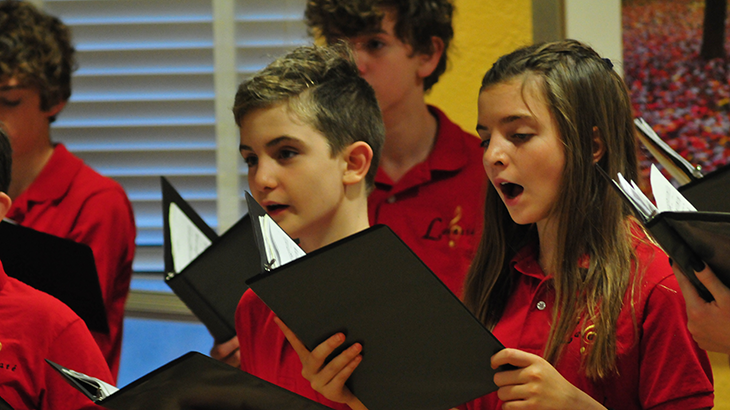 Laudate l Middle School Vocal Choir
Laudate offers middle school students the chance to grow spiritually as they worship God. Students do not have to have any prior experience before they join the choir, they just have to have an open heart and ready to have fun!
Rehearsal
Sundays (during the school year) | 4 to 5 pm
*Rehearsals are now online due to the COVID-19 Pandemic. Please check your email for the zoom link.*
Want to learn more about Laudate? Contact Dan Blosser -